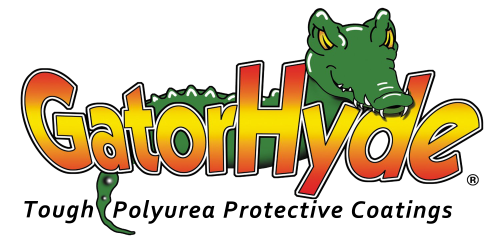 A List Wood Works is now offering Spray and Coating Services for the GatorHyde product line from Chemline Inc. Chemline is recognized as the industry standard for Polyurethane and Polyurea applications, including coatings and linings for Steel, Aluminum, Plastics, Concrete, Wood, and Foam.
GatorHyde CG is one of Chemline Inc.'s most requested products for protecting enclosures, truck beds, trailers, audio speakers and other substrates from environmental and daily wear. GatorHyde offers phenomenal resistance to scratching, impacts, and the elements. GatorHyde protective coatings are used in some of the most extreme environments in the world. From the 120°F deserts in the Middle East to equipment used in the -50°F Arctic these coatings stay strong and bonded.
These coatings dry within minutes and dramatically speed up OEM production time when compared to acrylics, enamels, vinyl or carpet wrapping. Once cured, Gatorhyde CG has a textured vinyl-like feel. The coating penetrates into the pores of the substrate for a strong bond that will not come off. In most cases the substrate will fail before the coating.



Think of the spray on bedliners that you see inbor pick up trucks. Now imagine being able to offer your product with the same level of protection and longevity. We can offer coatings for steel, plastic, foam, fiberglass, cement and wood products in a wide array of colors.
Contact us today to see if GatorHyde coatings are right for your application.
---